1701 Northpark Dr #4, Kingwood, TX 77339 phone (281)590-8448. PO Box 60947, Houston, TX 77205
Stair Lifts
Stair lifts, or stair chairs, are the perfect solution for anyone who has difficulty going up and down stairs, making your whole home accessible again.
We're the experts at installing and maintaining stair lifts. Give us a call at (281) 590-8448 or use our Contact Us page, and we'll put you back in all of your house.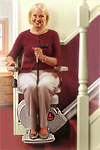 Straight Stair Lift
Stair lifts can take you up and down stairs effortlessly, in safety and comfort. You can smoothly glide from one floor to another, and enjoy your whole home again.
Stair Lift Technical Specifications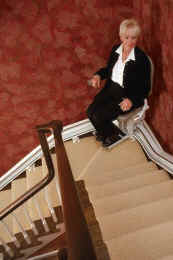 90° Turn Stair Lift
Stair corners aren't a problem for stair chairs. A special track section lets the stair chair turn the corner easily.
Contact Us and we'll come to your home for a Free Evaluation and Estimate.
Curved Turn Stair Lift
Curved Stair lifts are designed for more complex staircases. We custom fit them to the stairs, and use a slim fold-away design and a unique modular rail system.
Detailed images of a curved stairlift installation.
Free Home Evaluation !
or 0386-855 (412) in the Ft. Worth / Dallas area.
End of Main Content. Skip to Main Navigation