1701 Northpark Dr #4, Kingwood, TX 77339 phone (281)590-8448. PO Box 60947, Houston, TX 77205
Scooter Lifts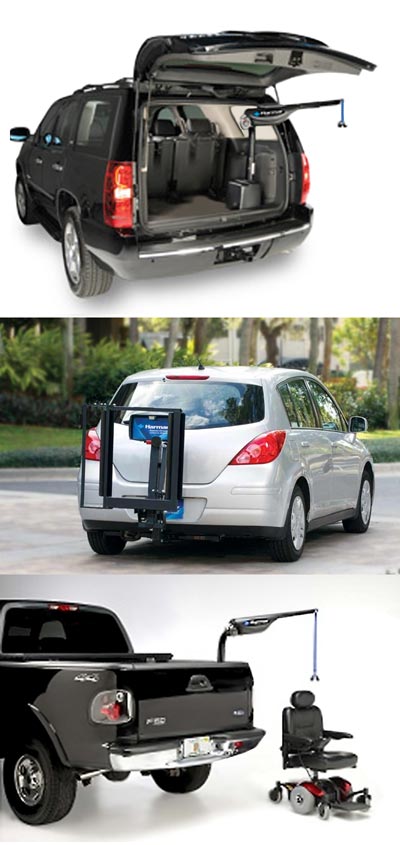 Personal scooters are wonderful mobility aids, allowing you to shop and visit places that would otherwise be too tiring, but not everywhere you wish to go has scooters available. What to do?
A scooter lift from Elevators of Texas will let you bring your own scooter along wherever you visit. Our lifts help you load your scooter inside your van or SUV, or carry it externally if you don't have the room inside.
We have many models of American-made Harmar scooter lifts available, from lightweight to heavy-duty capacities.
Contact Elevators of Texas at (281) 590-8448 or use our Contact Us page for a full explanation of the benefits of these versatile scooter lifts.
External Scooter Lift
External scooter lifts mount behind the vehicle, similar to a trailer hitch. The lifts fold up when not in use, and swing to the side for full access to the trunk or rear hatch. The popular Harmar AL100 model shown here has keyed operation and is suitable for most scooters.
Boom and Platform Internal Scooter Lifts
Boom scooter lifts take up very little interior space, and offset arms let the boom load and unload off to the side of the vehicle if desired.
Platform scooter lifts offer drive-on convenience for even the heaviest scooters.
End of main content. Skip to Main Navigation