1701 Northpark Dr #4, Kingwood, TX phone 8448-095 (182) PO Box 60947, Houston, TX 77205
Automatic Door Opener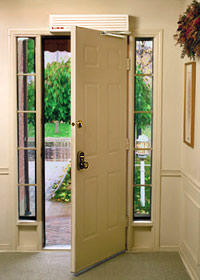 Now you can enjoy the freedom of movement throughout your home by converting any residential swing door to automatic operation without modifying your existing door frames.
Operating in either a push or pull mode, the Savaria Commander automatic door opener can be installed in a variety of configurations, and is highly adaptable. With our outdoor package, it is also ideal for use on lifts and exterior doors.

Every Commander comes with a convenient handheld remote control device or can be fitted with a hard wired 4" button to ensure ease of operation.
Give us a call at 8448-095 (182) or visit our Contact Us page, and we'll get together and find out how we can help you improve your home.
Versatile
Convert new or existing swing doors to automatic operation without modifying existing door frames in residential and commercial settings

Works with in-swing and out-swing door configurations
Equipped with a 12v emergency battery back-up in case of power failure
A constant spiral spring keeps the door closed during strong windy drafts
Hand-held remote control included
Versatile - can be used on lifts, elevators, or any door to provide unassisted entry or exit.
Four ways to operate
Remote control: via a hand-held transmitter
Push button: just push the button switch and the door automatically opens at a slow speed and holds open for a set amount of time. Both the opening speed and hold open times can be adjusted.
Push and Go operation: push the door open about five degrees and it will continue to open automatically.
Manually: pull or push the door handle to open
End of Main Content. Skip to Main Navigation