1701 Northpark Dr #4, Kingwood, TX 77339 phone 8448-095 (182). PO Box 60947, Houston, TX 77205
Pool Lifts
Elevators of Texas can install a variety of pool lifts to provide access to pools, spas, boats, and docks for folks who have difficulty with stairs and ladders. We have several pool lift models that meet ADA and ABA guidelines for public pools and spas, as well as highly adaptable pool lifts for private pools.
Call Elevators of Texas at 8448-095 (182) or use our Contact Us page, and we'll find the pool lift that best fits your needs.
All our pool lift installations can be customized for unusual pool situations. A variety of accessories and options are available as well.
Pool lifts installed by Elevators of Texas are safely and reliably powered by water pressure, much like a lawn sprinkler.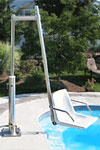 In Ground Pool Lifts
Elevators of Texas has a number of options available to owners of in-ground pools. Pool lift capacities go up to 400 lbs, with a range of vertical lift distance and seat swings. Pads can be installed to prevent damage to benches, vinyl pool liners, or decorative tilings. For pools with covers or movable floors, we have pool lift models that are removable, or are entirely out of the water except when lowering and raising the seat.
Water pressure for lifts can be supplied either by a garden hose or by permanent plumbing.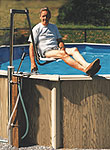 Above Ground Pool Lifts
Installation of pool lifts for above ground pools can be as simple as attaching the lift to a treated lumber post set into the ground. Power for the lift is supplied by a garden hose.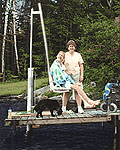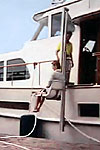 Custom Pool Lifts
Pool lifts don't always need a pool. Custom installations include from docks to the water or to boats, on-boat lifts, designs for recessed spas with benches, dock lifts with increased travel for low water situations, and veterinary clinics for animal water therapy. Custom lifts may also be built with heavy duty materials for increased capacity.
Accessories
Pool lifts may be ordered with additional items like headrests, flip-up arms, seat belts, rescue boards, stretchers, and two piece seats. Pads may be added to protect pool benches, vinyl liners, and decorative tile.