1701 Northpark Dr #4, Kingwood, TX 77339 phone (281)590-8448. PO Box 60947, Houston, TX 77205
Slings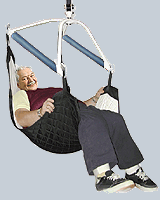 Combined with different ceiling or floor lift models, slings are used to lift and transfer a person in various situations.
Slings come in a variety of models and different sizes according to patient needs. Bariatric, geriatric, and pediatric sling styles are available, and DME's experts can tailor the choice to your exact needs.
Give us a call at (281) 590-8448 or use our Contact Us page, and we'll get you started.
Also visit our DME of Texas home page for an explanation of the additional services you will receive when you let us help.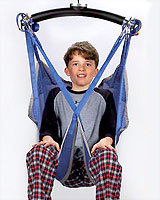 Universal Sling
Easy to use and fit, the Universal sling is a multi-purpose sling that provides toiletting access as well as good back and thigh support. The sling comes with leg, hip, and shoulder straps, and features multiple color-coded loops to accommodate various seating positions. Available in either mesh, quilted material, or padded fabric. Universal slings can be supplied with or without head support. Padded Sling versions are more comfortable and easier to fit.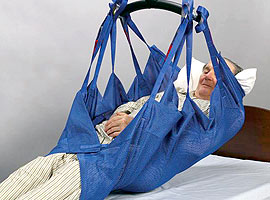 Positioning Sling
The Positioning sling is intended to be permanently in place as part of the bedding. Slings are outfitted with tabs to assist in securing the sling to the bed as the tabs are tucked under the mattress. The sling may be used for transfers to other horizontal surfaces.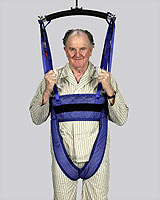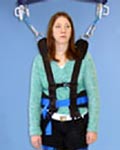 Walking Sling
Walking slings offer upper body support and freedom of movement to individuals performing exercises in a rehabilitation setting. This supportive sling assists in the safe lifting of individual from a seated to a standing position.
The available Deluxe Walking sling has all the features of the Walking sling, but offers additional adjustment around the torso.
Full Standing Sling
The Standing sling is a dual purpose sling affording a natural sit-to-stand movement. Functional from both bedside and chair surface, this sling encourages pivot transfers, ambulation, and toiletting.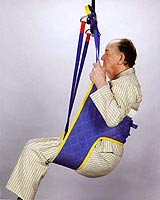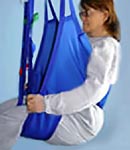 Hygiene Sling
Hygiene slings are designed for toiletting and hygiene functions. Access is unrestricted for most users, making this sling ideal for independent transfer and toiletting. A wide strap across the chest, available with Velcro® or buckle attachment, provides additional upper body support.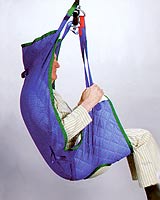 Hammock Sling
Hammock slings combine full body and head support with toiletting access. Hammock slings come with leg and shoulder straps, and feature multiple color-coded loops to accommodate various seating positions. The Hammock sling is available in either regular mesh or quilted material.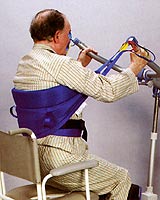 Stand-Aid Sling
The Stand-Aid sling comfortably wraps around the patient's waste, and with limited pressure will help raise the person to a standing position. A Stand-Aid belt is also available.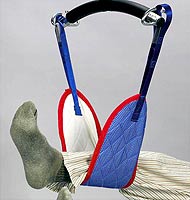 Band Sling
The Band sling is ideal for supporting limbs to facilitate the change of dressings on arms, hands, legs, and feet, or to elevate and hold limbs during surgery.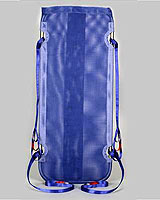 Stretcher Sling
The Stretcher sling is a custom ordered metal frame with blue mesh. Four straps with two loops are sewn directly to the metal frame. The sling has a Velcro® fastener to allow it to be easily removed from the frame.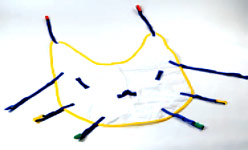 Disposable Slings
Disposable slings are designed to be used by one individual and disposed of when soiled or no longer required. They are based on the Universal sling pattern, and rated to 600 lbs. Typical safe use ranges from 1 to 3 months, dependent on frequency of use.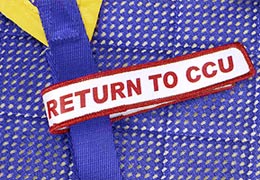 Sling Labels
Custom labeling is available for all slings. This greatly improves identification to ensure slings are returned to the correct department or owner.
Custom Slings
Any of our standard slings may be customized to better suit individual needs. Common sling customization includes adding loops, padding, and straps. Changes are reviewed to ensure no loss of integrity, and the customized sling will be weight-tested after manufacture.
End of main content. Skip to Main Navigation