1701 Northpark Dr #4, Kingwood, TX 77339 phone (281)590-8448. PO Box 60947, Houston, TX 77205
Free Standing Track Systems
Free standing systems are used with portable ceiling lifts. All DME of Texas's systems have 400 lbs capacity. Give us a call at (281) 590-8448 or use our Contact Us page, and we'll figure out which system is best for your situation.
Also visit our DME of Texas home page for an explanation of the additional services you receive when you let us help.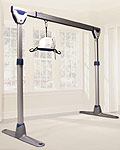 2 Post System
The 2 post frame is often used as a temporary measure or where ceiling lift track installations are not possible. It is easily assembled without tools, and can be adjusted in height and length to optimize use.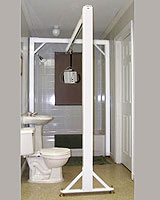 Cross-Shaped 3 Post Bath System
The 3 post bath system allows for the use of a ceiling lift over a standard bathtub with no permanent installation required.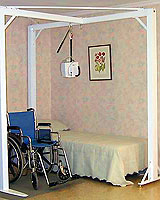 T-Shaped 3 Post Bedroom System
The 3 post bedroom system permits the use of a ceiling lift over a standard hospital bed with no permanent installation required. The two rails allow for transfer to and from bed as well as repositioning in bed.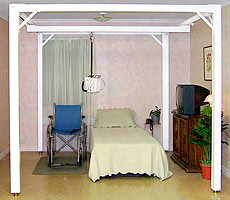 Square 4 Post System
The 4 post free standing gantry offers all the flexibility of an X-Y gantry system with no requirement for permanent installation. Can be used with fixed or portable ceiling lifts.
Pressure fit Track System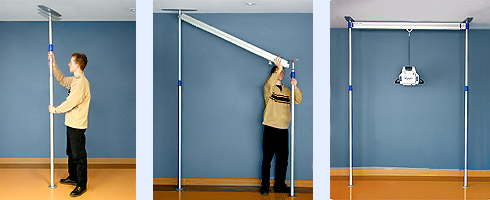 A pressure fit track system braces between the floor and ceiling, requiring no permanent installation. It may be installed in 2, 3, and 4 post configurations like the floor mounted systems.
End of main content. Skip to Main Navigation