1701 Northpark Dr #4, Kingwood, TX 77339 phone (281)590-8448. PO Box 60947, Houston, TX 77205
Floor Lifts
Our Floor Lifts, also called "hoya lifts," provide a perfect solution for safe and comfortable transfers in your own home.
Call us at (281) 590-8448 or use our Contact Us page, and we'll find the floor lift that fits your needs.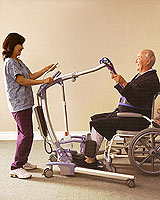 Stand Aid Floor Lifts
Stand-up floor lifts are designed for patients/residents with reduced mobility and physical strength who are unable to raise themselves independently. Patients must be able to bear weight and have a degree of self support. The floor lift transfers the patient standing up in a more dignified manner, providing the a greater sense of security, and providing the care giver with improved working conditions. The front legs spread in a full V, while the rear legs are fixed, thus providing a wide and stable base.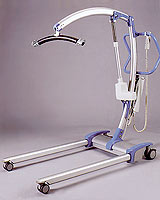 Total Floor Lift
The Total Lift floor lift is a cost effective solution for the most strenuous tasks. This lift spreads the entire length of the legs in a V shape, making for a very stable lift of up to 550 lbs. Easily maneuverable on high quality casters, the floor lift base allows clearance to accommodate even the largest of chairs. The lift comes standard with a unique four point carry bar which provides additional head room clearance, enhancing patient/resident comfort.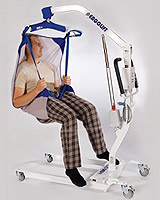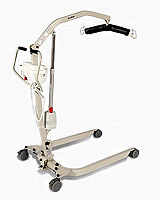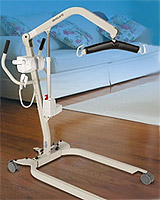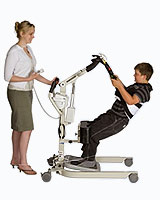 Visit our DME of Texas home page for an explanation of the additional services you receive when you purchase a floor lift from us.
Waverly Glen Stand Aid Floor Lift