1701 Northpark Dr #4, Kingwood, TX 77339 phone (281)590-8448. PO Box 60947, Houston, TX 77205
Ceiling Lifts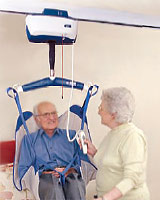 Ceiling lifts are the ideal solution to assist in lifting and transferring a patient or resident with mobility challenges, and where space is limited.
Ceiling lifts greatly reduce injuries resulting from the handling of patients/residents in both home care and institutional settings.
Ceiling lifts run along either permanently installed or free standing overhead rails. They are ideal for both home care and institutional use.
For a Free, no obligation evaluation and estimate,
or 0386-855 (412) in the Ft. Worth/Dallas area.
All DME of Texas ceiling lift installations are weight tested to ensure safe and reliable operation. We are manufacturer certified to perform this critical task. See our Track Configuration page for more details.
Contact DME of Texas at (281) 590-8448 or use our Contact Us page for a full explanation of the benefits of these versatile ceiling lifts.
Safe and easy to use
Less space required to operate than floor lifts
Less obtrusive for patients
Always available for use
No storage requirements
Also visit our DME of Texas home page for an explanation of the additional services you receive when you let us help.

BHM Ceiling Lift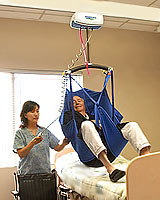 Fixed Ceiling Lifts
Fixed ceiling lifts are permanently installed on the rail or system of rails. They also have an optional return to charge, adjustable lateral speed, and height of carry bar features.
Compact but powerful, fixed ceiling lifts lift quickly to reduce patient transfer time. Easily changed batteries have audible low battery warnings, visual charge indicators, and auto shutoff when not in use.
The ceiling rail or track system can flexibly be adapted to almost any home or institutional situation, running as simply as from bed to wheelchair, or as elaborately as from bedroom to bath to activity area. Our Ceiling Tracks page shows typical configurations to give an idea of what can be done.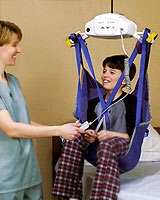 Portable Ceiling Lifts
Portable ceiling lifts can be transferred when needed from one rail or system of rails to another. Lightweight, easy to handle, and designed to provide complete control for the care giver, they are perfect for temporary or portable installation, and can lift up to 440 lbs. The carry bar is integral to the lift, with positive locking latches to secure the sling.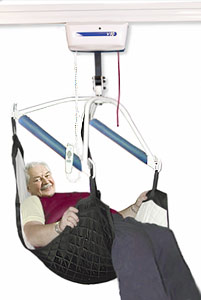 Bariatric Ceiling Lifts
Elevators of Texas can provide bariatric lifts capable of handling up to 600 lbs and up to 1000 lbs. We weight-test all lifts and overhead tracks after installation to ensure safety.
End of main content. Skip to Main Navigation